Good things come in small packages when it comes to the nutrition benefits of pistachios.  These bite-sized and crunchy nuts have numerous health benefits and make for great mid-meal snacks.
The vibrant colour of pistachio indicates high antioxidant content. Pistas are also high in beta-carotene and the compound oleanolic acid, both of which are potent anti-inflammatory compounds. They also contain phytosterols, a type of anti-inflammatory plant hormone associated with improved immune function.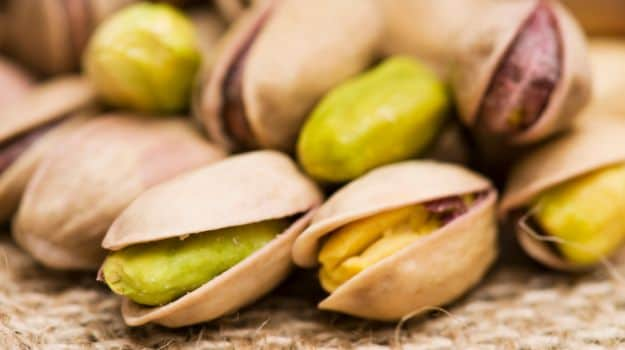 One ounce of pistachios provide:
– More dietary fiber (3 grams) than 1/2 cup of cooked broccoli
– Six grams of protein – the same amount as 1 ounce of soybeans
– Good' fat—7 grams of monounsaturated and 4 grams of polyunsaturated fats, which are considered heart healthy
– Less than 2 grams of saturated fat
– Phytosterols, which may decrease the risk of heart disease
– As much potassium as 1/2 of a large banana
– Vitamin B6
– Copper
– Thiamin
– Phosphorous
– Manganese
– No cholesterol
– No trans fat
Pistachios also have more antioxidant power per 100 grams than blueberries, blackberries, garlic, and pomegranate juice.
Lutein, an antioxidant found in green and yellow vegetables, is also found in pistachios. This antioxidant has been widely studied and shown to support eye health. Pistachios have more lutein in them than any other nut.
Health Benefits Of Pistachios

1. Healthy Heart
One of the biggest health benefits of pistachios is that they are heart-friendly nuts. Research suggests that regular pistachio consumption can decrease the levels of bad LDL cholesterol in the body. The antioxidants, phytosterols, and unsaturated fatty acids (both polyunsaturated and monounsaturated fatty acids) are great for promoting a healthy heart.
2. Weight Management
Pistachios are also the first choice of people who are dieting. Evidence suggests that pistachios, with their lower calories, high protein, low saturated fat, and high unsaturated fats, are a perfect contender for ideal weight management.
3. Pistachios Contain Beneficial Antioxidants
As our cells grow older, they accumulate oxidative damage. This can be related to the presence of free radicals, which can cause considerable damage to cells. A class of molecules called antioxidants can sweep up these free radicals and reverse some of the cellular damage.
Pistachios are an excellent source of antioxidants, including lutein, beta-carotene, and gamma-tocopherol (Penn State News, 2010). Beta-carotene serves as a precursor to vitamin A, while gamma-tocopherol is used as a precursor to vitamin E. Both vitamin A and vitamin E themselves have very high antioxidant activity, making pistachios a great way to reap some of the oxidative damage-fighting effects of these vitamins. In a randomized study of the effects of pistachios, researchers found that incorporating these nuts into the diet was associated with lower levels of harmful LDL cholesterol (Penn State News, 2010), possibly because of the antioxidants present in pistachios.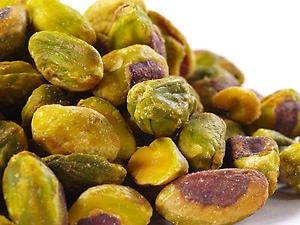 4. Pistachios Contain Vitamin B6
Vitamin B6 has myriad health benefits. Failure to get enough vitamin B6 has been associated with elevated risk of cardiovascular disease, certain types of cancer, and cognitive dysfunction (Office of Dietary Supplements, 2015). Thus, getting vitamin B6 through your diet may improve your cardiovascular health and keep your brain sharp. Women need 1.5 mg of vitamin B6 per day, while men need 2 mg per day. A 1-ounce serving of pistachios contains 0.4 mg of vitamin B6, helping you reach your daily recommended intake of this beneficial vitamin.
5. Weight Control
Snacking on pistachios can help you to lose weight as well as maintain a healthy weight. By snacking on a serving between meals, the healthy fats, fiber and protein of pistachio nutrition can help you to fend up hunger between meals. Snacking on pistachios can also help you not begin your next meal feeling so ravenous because they help you achieve satiety.
Research from the UCLA School of Medicine showed that subjects who substituted pistachio nuts for food such as candy bars, dairy products, microwave popcorn, buttered popcorn and potato chips, with pistachios accounting for 20 percent of total calories for three weeks, did not gain any bodyweight, lowered their overall cholesterol and increased their good cholesterol.
6. Eye Health
Pistachios are the only nuts that contain a significant amount of the carotenoids known as lutein and zeaxanthin. (4) Dietary carotenoids are believed to provide health benefits to the body by decreasing the risk of disease, particularly certain cancers and eye disease.
Lutein and zeaxanthin are the only carotenoids found in the retina and lens of the eye. The results of epidemiological studies suggest that diets rich in lutein and zeaxanthin may help slow the development of age-related macular degeneration and cataracts. Carotenoids are best absorbed with fat in a meal or in the case of pistachio nutrition, good fat is already part of the package, making it easier for the body to absorb pistachio's lutein and zeaxanthin.
7. Aphrodisiac Properties
Pistachios have been shown to have a positive effect on men's sexual vitality. A 2011 study conducted by the Department of 2nd Urology at Atatürk Teaching and Research Hospital in Turkey had subjects consume 100 grams of pistachio nuts at lunch every day for a period of three weeks, which was 20 percent of their daily caloric intake. These subjects were all married men ranging in age from 38 to 59 who had erectile dysfunction (ED) for at least 12 months prior to the study. The men were instructed to maintain similar daily dietary intake, similar physical activity and other lifestyle habits so the only major change was the addition of pistachios to their diets.
The results of the study, published in the International Journal of Impotence Research, showed that these men with ED had a significant improvement in erectile function as well as improvement in their serum lipid levels. One reason pistachio nuts likely help ED and work as a natural remedy for impotence is the fact that they're relatively high in the non essential amino acid arginine, which appears to maintain flexible arteries and enhance blood flow by boosting nitric oxide, a compound that relaxes blood vessels.
8. Prevents Diabetes
Pistachios may also have benefits for people with diabetes. In a study published in the Review of Diabetic Studies in 2014, diabetic subjects who ate 25 grams of pistachios, or about an ounce, daily for 12 weeks improved their blood glucose levels. They also reduced their blood pressure, body mass index and C-reactive protein, a marker of inflammation in the body.
9. Absorption of Iron
Pistachios have a high copper content, which helps in the higher absorption of iron into the body from food sources. This can help combat conditions like anemia.