Whenever someone in the family has constipation, papaya will be the first thing that pops out in my mind to help them counter constipation. Papayas are very affordable and easily available in our country. Chilled papaya with a squeeze of kafir lime juice tastes incredibly refreshing, especially on a hot and sizzling day. While my girls are not big fans of papaya, I love this sweet fruit, not only the flesh but also the seeds.  Not that the seeds are delicious, in fact they are strong tasting with tinge of spiciness and bitterness, I eat the seeds solely to reap the healing properties.
Papaya seeds contain nutrients that help heal cirrhosis of the liver and improve kidney health, preventing renal failure. Its anti-inflammatory properties help treat arthritis and joint disease. It contains an alkaloid called carpaine that kills intestinal worms and amoeba parasites. Papain, in papaya seeds, helps in effective digestion of protein. Papaya seeds contain agents that stop the growth of cancer cells and tumors. They contain isothiocyanates which work well for colon, breast, lung, leukemia, and prostate cancer.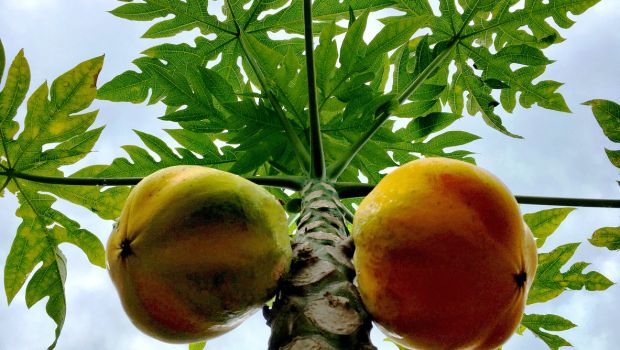 Believed to be a native of Central America, growing along the Caribbean coast, the papaya tree was considered sacred by the Mayans for its various medicinal properties. The fruits are not the only segment of the tree that was considered valuable, the leaves, seeds, and flowers too possess healing powers. It is also said that the great voyager Christopher Columbus used to refer to it as "fruit of the angels". What makes papaya such an incredible ingredient is the presence of the enzyme papain along with other essential nutrients that work together to provide you nature's best.
According to an article by the Telegraph UK, papaya has been declared a new super fruit after scientists found that it can prevent and may be able to treat a wide range of cancers.
Researchers found that papaya was an effective anti-cancer agent against cervix, breast, liver, lung and pancreas cancers.
They tested their theories by using a tea made from the extracts of dried papaya leaves and put them in dishes which contain cancerous cells.
The team of researchers found that the papaya leaf extract boosted the production chemicals that regulate the immune system.
Scientists from the University of Florida, who were behind the study, say that papaya may be used as an alternative cancer treatment.
Dr Nam Dang, of the University of Florida, said the findings published in the Journal of Ethnopharmacology were groundbreaking.
Other health benefits of papaya include:
1. Digestion – The enzyme papain present in papaya is known to aid digestion by breaking down proteins. Therefore, a glass of papaya juice is often recommended as a home remedy for digestion-related problems or constipation.
2. Anti-inflammatory – Apart from papain, papaya also contains other effective enzymes that help against inflammation and promote healing of burns.
3. Heart Disease and Cancer – Papaya is rich in anti-oxidants and phytonutrients that work against free radicals and therefore is said to protect the body from possible heart diseases and cancer.
4. Diabetes – Many researchers have found that the consumption of raw papaya could help maintain blood sugar level and cholesterol because of the high fiber content, thereby keeping a check on diabetes. According to a study done by the Centre of Excellence for Biomedical and Biomaterials Research at the Mauritius University, green tea and fermented papaya work together as preventive means for diabetes. In some parts of India, especially the North East, papaya flowers are locally used as a preventive measure against diabetes. The bitter flowers are lightly sautéed in a little oil and consumed as a side to rice on a regular basis.
5. Immunity – Papaya is a great source of vitamin A, B, C, and K and is known as an excellent immunity booster. It is great for the growth of body tissues, including hair and skin. It helps in maintaining collagen, the structural protein of connective tissues. It is said that a medium-sized papaya could provide you double your daily requirement of vitamins.
6. Cleansing – Beauty experts too, often suggest using slices of papaya as a natural skin cleanser as the active enzymes work wonders to remove impurities.
7. Arthritis – It is also rich in minerals such as calcium, potassium, magnesium and copper. Regular consumption helps in building up the calcium bank in the body and in the long run could help keep a check on arthritis.
8. Dengue – Papaya leaves are commonly used in the treatment of dengue to help boost up the count of platelets. Dengue is an infection which affects the blood platelets massively. A simple remedy to get back the platelets count is to give the patient a glass of papaya leaf juice. It is prepared by grinding the leaves with a small amount of water to extract the juice. However, dengue can prove to be fatal once it develops into Dengue Hemorrhagic Fever which shuts down the circulatory system.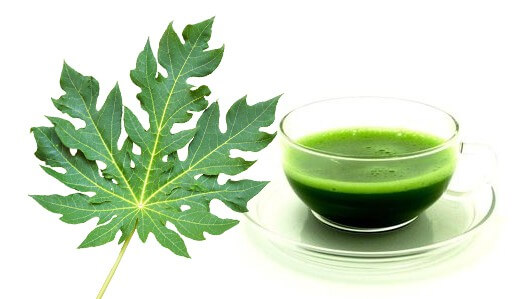 9. Weight Loss – papaya is low in calories and therefore proves to be the perfect option for breakfast. A serving of 140 grams of the fruit contains only 60 calories, with total fat 0.4 gram, no cholesterol, 15.7 gram carbohydrates and 2.5 gram dietary fiber.
10. Prevents eyes related diseases and macular degeneration – Macular degeneration is a disease of the eye. In this condition, the ocular cells degenerate, which results in blurred vision and can cause blindness as well. This is an age-related illness and adding papayas to the diet is beneficial for reducing the risk of developing macular degeneration. An antioxidant named beta-carotene gives papaya its orange color. Just as carrots help to improve the eyesight due to the presence of beta-carotene, it is also known to be effective in reducing the effect of macular degeneration. According to a study published in the Archives of Ophthalmology, a consumption of 3 or more servings of this fruit on a daily basis day may lower the risk of age-related macular degeneration (ARMD).
11. Prevents constipation – papayas consist of papain, a chemical which enables digest proteins (particularly food along with gluten). Focused amounts can particularly be located within unripe papaya. This kind of enzyme aids in preventing the buildup of mucoprotein (partly digested protein) within the body as well as lymphatic system. In reality, papain has been extracted to create health supplements for digestion of food. Therefore, the unripe papaya is recognized as to get much more recovery powers for bowel problems compared to the ripe one.
How safe is papaya?
Contraindications
Papaya may cause severe allergic reactions and is therefore contraindicated in sensitive people.
Pregnancy/nursing
Possibly unsafe depending on the part of the plant being used and dose administered. Avoid use.
Side Effects
Papaya may cause severe allergic reactions in sensitive people. Papaya latex can be a severe irritant and vesicant on skin. Papaya juice and papaya seeds are unlikely to cause adverse effects when taken orally; however, papaya leaves at high doses may cause stomach irritation.
Toxicities
There are parts of the plant (eg, seeds) that contain benzyl isothiocyanate, which may cause poisoning at high doses.
Skin Discoloration
The papaya gets its orange color through beta carotene, a nutrient within the carotenoid family which also will provide you with vitamin A. Too much of beta carotene causes the palms of the hands as well as soles of the feet to have tinges of yellow or orange color. This is called Carotenemia. Carotenemia isn't to be mistaken for jaundice, a yellowing on the skin which also impacts the whites of the eye. Jaundice is actually a symbol of higher-than-normal bilirubin levels; carotenemia is undamaging. Reducing your papaya usage will certainly solve the discoloration of your skin.