It's been a while since I last whirled out some refreshing and healthy fruit smoothies for my girls.  Since there were quite a bit of fruits in the fridge, I swirled up some refreshing fruit smoothies for the girls for their lunch last week.
On the left is orange, apple, passion fruit and chia seed smoothie for Alycia.
On the right is the same concoction with the addition of strawberry flavored yoghurt milk for Cass. Funnily, yoghurt milk seems to have a pretty good effect in moving Cass' bowels.  She's a very constipated child and I'm glad that I have found a pretty cheap and yummy 'laxative' for her, which she can drink 2-3 times a day.
That's the girls' appetizer for lunch.
Next, the main course is baked crispy sandwich with egg mayo + sweet corn kernels.  The sandwich was baked for 15 minutes in the oven.  I found out by chance that by using a fork to press on the 4 edges of the sandwich, the sides will be sealed, thus preventing the filling from spilling out.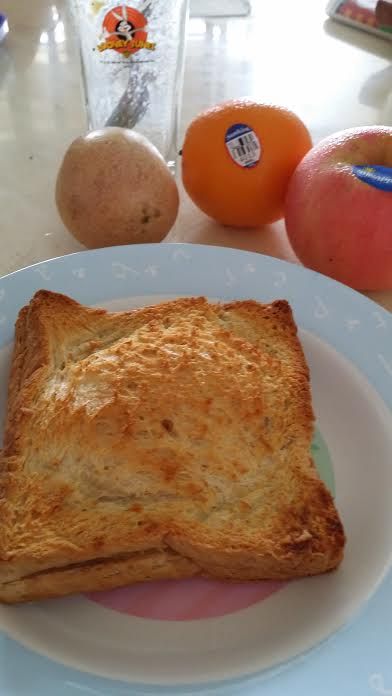 But Cass prefers to open up the sandwich to eat the bread separately as her bottom tooth is now shaky and it hurts her to bite on hard food.