Lemongrass To Lower Cholesterol
Lemon grass is from a group of grass in the genus Cymbopogon plant, which is a perennial plant commonly found in warm climates or tropical countries especially in South-east Asia. Several studies have found that lemongrass has many medicinal uses which also includes reducing cholesterol levels.  This is because it has anti-inflammatory properties, among others.
A study published in the journal Food and Chemical Toxicology in 2011 by Brazilian researchers found that lemongrass intake is beneficial in reducing blood cholesterol levels. In this study, laboratory mice were administered lemongrass essential oil for 21 days (100 mg/kg).  Following that, it was observed that blood cholesterol was reduced and no side-effects were reported.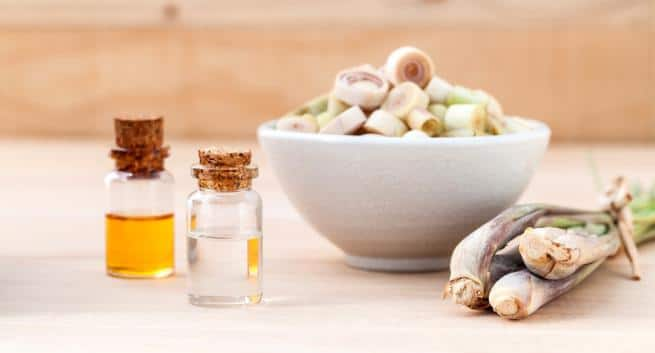 Lowering Cholesterol With Lemongrass Essential Oil (Studies & Researches)
In 1989, the medical journal Lipids (study details) published the results of a study from the Department of Nutritional Sciences, University of Wisconsin which investigated the lowering effects of Lemongrass oil on serum cholesterol levels.
High cholesterol may increase your risk of heart attack or stroke. A study published in the Journal of Advanced Pharmaceutical Technology & Research showed that lemongrass oil extract helped to lower cholesterol in animals. The reduction in cholesterol was dependent on the dose.
In 2011, further research on mice confirmed the long-term safety of up to 100mg lemongrass essential oil daily. More research is needed to see if lemongrass tea has the same effects as lemongrass oil.
Is Lemongrass Oil Safe?
Lemongrass oil is generally safe as long as it is used in small quantities (it is one of the strongest-smelling oils in aromatherapy) and must be properly blended with a carrier oil. Undiluted lemongrass can actually burn and injure your skin due to its high citral content, so it's best to mix it with a carrier oil like olive or coconut oil. I advise doing a patch test before applying lemongrass oil on your skin, to see if you have any adverse reactions to this essential oil.
Side Effects of Lemongrass Oil
Skin irritation, discomfort, rashes and a burning sensation are some topical side effects experienced by people with sensitivity to lemongrass oil. Using the oil may also lead to lowered blood glucose, and may have contraindications for people who are taking oral diabetes drugs or anti-hypertensive medications, as well as those who are diabetic and hypoglycemic.
Children, pregnant women or nursing moms are not recommended to use lemongrass oil orally. Those with liver or kidney disease and other health conditions should also consult their physician before using lemongrass oil.
---
---